London in a Japanese atlas: by Miho Nakagawa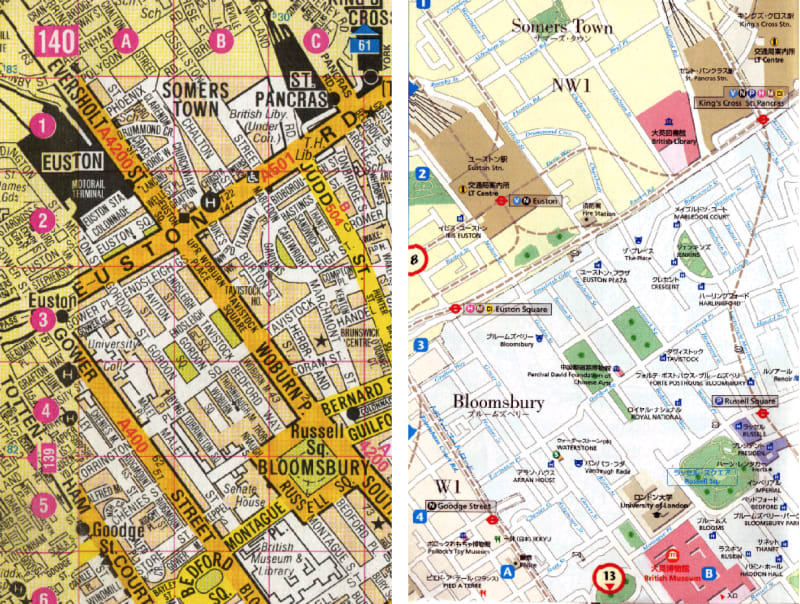 A guest article by Miho Nakagawa, University of East London. Miho arrives in England and tries to find her way around.
Surprisingly, maps are cultural products. Each country has its own cartographic style reflecting perceptions of cities, their systems and written languages. When tourists visit a country for the first time, they are sometimes bewildered by the different conventions operating there. For instance, in the early stage of my life in London, I used a London atlas produced in Japan, called Chikyu no Arukikata [the Globe-Trotter]: I Map Guide London. This was not helpful because the Japanese and the British have completely different systems for assigning addresses.
The Japanese employ a system based on areas, the patchwork system. Meanwhile the British use a network system based on positions along streets. The patchwork and network systems are in a precise figure-ground relationship. Apart from gridded cities such as Kyoto (which was modelled after the ancient Chinese city Chang'an) and Sapporo (which was colonised by mainland Japanese), most Japanese cities use this area-based patchwork system. In patchwork cities, many streets - other than main roads - do not have names. However, all localities or areas have names and numbers.
These localities are subdivided into smaller and smaller numbered areas until the final number is given to an individual building plot. Yet the numbering is not always in a regular clockwise or anti-clockwise order, because plot numbers are often allocated after plots have been subdivided or merged. For someone like me, familiar with the patchwork system, it was difficult to find a location belonging to the network system of London by using maps drawn according to patchwork conventions. Under such difficulties, I was compelled to obtain a copy of the London A-Z and realised that all streets in London have names! This was a surprise for a patchwork city resident. Eventually, I needed to open the two maps side by side at the venue.   
Both these maps portray the same area - Bloomsbury, London - at the same scale; but the differences between these two maps are remarkable. The users' contrasting customs of identifying locations are directly reflected in the maps. The Japanese atlas (right) is presented with streets at their correct widths. The areas are clearly demarcated in different pale colours, with locality names in the biggest font size such as Somers Town, Bloomsbury and Fitzrovia. It is unclear whether this division of localities is precise or not but, in any case, patchwork city residents are likely to look for a locality first.
In addition, the map also shows random postcodes such as NW1 and W1 using the same size font as the locality names. Obviously, these postcodes are not vital for the map readers; they are just providing patchwork system users with some extra information. Unexpectedly though, the cartographers of the I Map Guide London advise map readers to understand their location through postcodes, and also suggest that the most important aspect of a London address is the street name, and that local maps usually contain gazetteers. Yet ironically, the I Map Guide London itself does not have any street index, rendering these maps useless for finding locations by means of street names. This means that even though Japanese cartographers do understand the network system in London, they use the patchwork representation with which Japanese users are familiar. Building names are given in prominent type, but the names of streets, in sharp contrast to the British map, are in small type and a faint colour.
In short, this Japanese map requires readers to scan the locality name in the same way as they would do on a Tokyo atlas; tourists can identify their locations by means of the spatial arrangement, that is, the relationships of the streets and buildings or landmarks in the area, following their accustomed patchwork system. Finally, it is worth noting that a Tokyo atlas produced in the UK presents maps vice versa: Tokyo is depicted in the network style exactly like the London A-Z.
Barrie Shelton, in Learning from the Japanese city: West meets East in urban design, Taylor and Francis Abingdon 1999, p.39
London A-Z Street Atlas, Geographers' A-Z Map, Kent 1996, p.140
Chikyu no Arukikata: I Map Guide London, Diamond Big Tokyo 1999, p.9 and p.20