Josephine Baker captivates the Modernists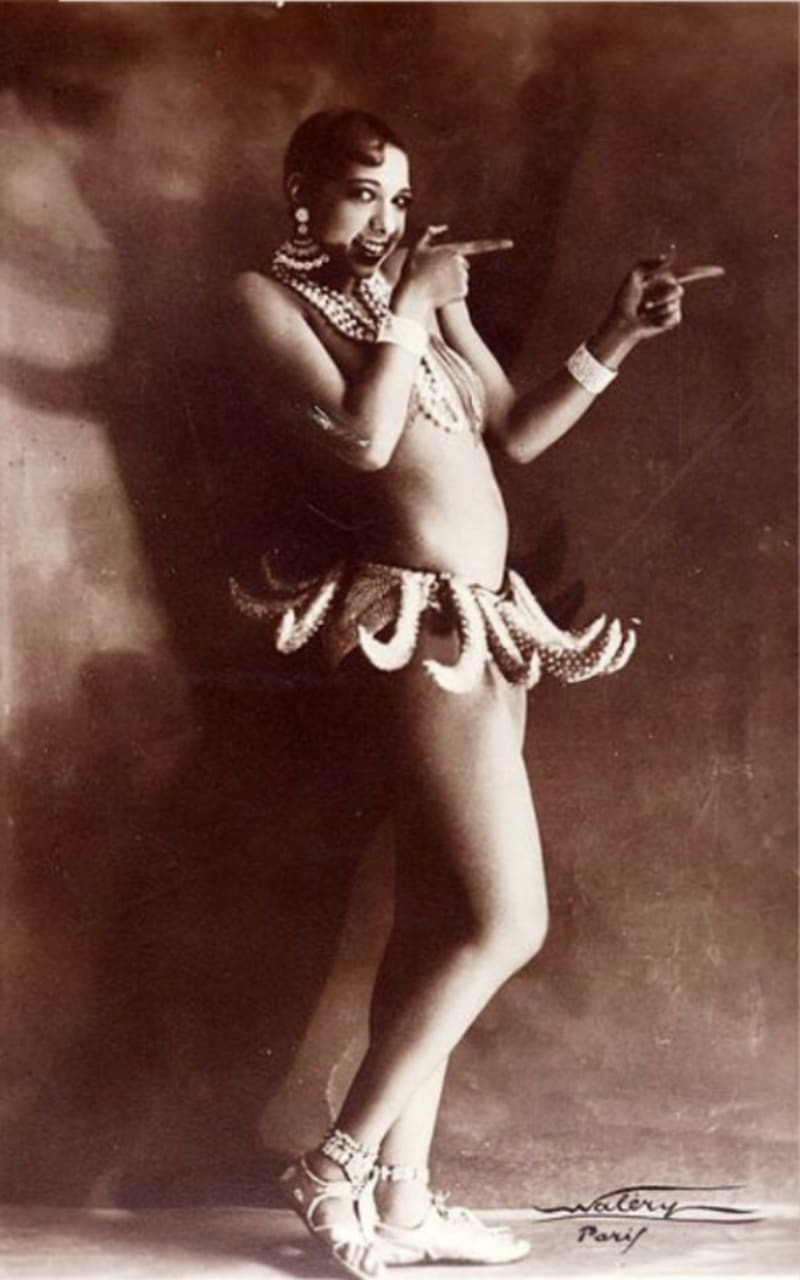 On 2nd October 1925 the 'Revue Nègre' opened in the Théâtre du Champs-Élysées in Paris. The critic Pierre de Régnier describes the first entrance of the show's star, the American dancer and singer Josephine Baker.
"There came onto the stage, very fast, a strange personage who walked with knees bent, dressed in ragged underwear, bringing to mind a boxing kangaroo, a liquorice comfit, a racing cyclist. Is this a man? Is it a woman? Her lips are painted black, her skin is the colour of bananas, her hair – already short – is stuck to her head like a wig of caviar, her voice is shrill, she continually vibrates as she moves, her body squirms like a snake, or more precisely she seems to be a saxophone in movement, and the sounds of the orchestra seem to come from her body." In the final scene "Josephine is completely nude, with a little string of blue and red feathers round her waist, another round her neck. These feathers waggle in rhythm, and their wiggling is skilfully controlled."
The idea for an all-black jazz review had been suggested to the theatre's director André Daven by his friend the painter Fernand Léger. Twenty musicians and dancers including Baker and the clarinettist Sydney Bechet – both of whom then made their lives in France – were brought specially from New York. The 'Revue Négre' was a succés fou, and Baker went on to tour Europe and South America. On 1st March 1928 she was appearing at the Johann-Strauss-Theater in Vienna, where Adolf Loos was in the audience. Conservative Catholic critics were upset at the show's lubricities, and churches held ceremonies of repentance. Loos however apparently worshipped Baker as a 'holy creature'.
Loos's third wife Claire Beck Loos, in her memoirs, says that her husband had in fact previously met Baker several times in Paris, and that Baker had taught him the Charleston. At a party, she had complained to Loos about a house that was being designed for her, unaware that architecture was Loos's profession. Loos, who was rather deaf, got the impression that she was asking him for a design. His scheme – 'A Small Variété for Josephine Baker' - was a corner block with a cylindrical tower, all clad in marble in horizontal black and white stripes. The major feature of the interior was a swimming pool, with what Loos called 'supernatural light effects' and a glass side, through which Baker's guests would be able to watch her swimming naked. No doubt Loos wistfully imagined himself among them.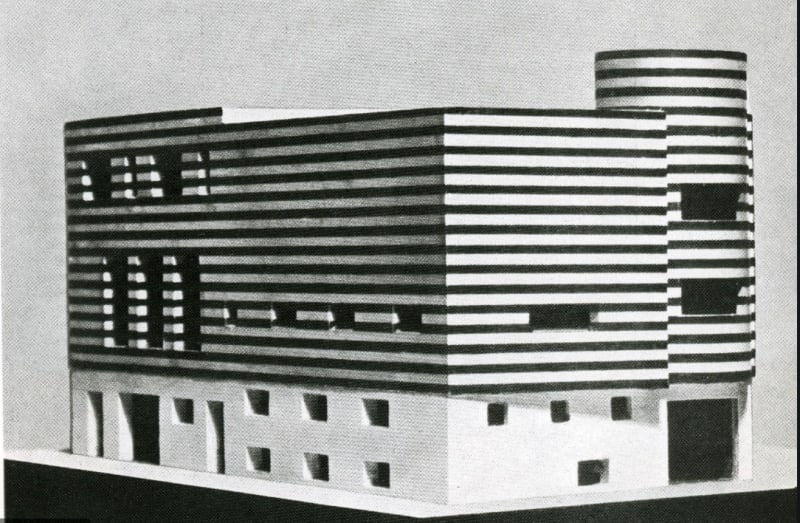 It is not recorded whether Baker ever saw Loos's design, but it was apparently exhibited in the Salon d'Automne in Paris in 1928. Le Corbusier showed furniture in the Salon, so it is likely that he would have seen Loos's model. In November 1929 Baker and Corbusier crossed the Atlantic on the same ship, the Giulio Cesare, en route to São Paolo. Like Loos, Corb was smitten. He cried when she sang 'Baby', and they started a mad affair. As with Loos, Baker did not immediately gather that Corbusier was an architect. "What a shame" she said, when she learned the truth. Corb was very funny and "would have made a great partner". (What a stage act that would have been! Le Corbusier handling the rectangular sections and Baker responsible for the curves.) Corb made some tender erotic drawings of her, but she did not commission him to design her a villa. The pair travelled back together on the Lutétia and went to a costume party. Baker was dressed as a Pierrot in white face, and Corbusier wore a black and white striped singlet, the stripes extended down his arms in black makeup. Was this a dig at Loos?
During the Second World War Josephine Baker worked under cover for the Resistance in the south of France and Africa, for which she was made a Chevalier of the Légion d'Honneur by General de Gaulle. She retired to Les Milandes, a chateau in the Dordogne. One might see distant influences of the work of Adolf Loos in the castle's black marble Art Deco bathrooms. But Baker decorated the main rooms in a kind of Hollywood medieval, perhaps more to her taste in the end than a white (or even black-and-white) Modernism.
Les Mémoires de Joséphine Baker, ed Marcel Sauvage, Corréa, Paris 1949 p.10
Ines Weizman, 'Tuning into the void: the aurality of Adolf Loos's architecture', Harvard Design MagazineNo.38
Ellis Woodman, "Le Corbusier burst into tears when he heard Josephine Baker sing 'Baby'", The Architectural Review, 4 June 2014
Josephine Baker e Le Corbusier no Rio – um caso transatlantico, Exhibition at the Museu de Arte do Rio, 2014